About Winfluence - The Influence Marketing Podcast
Want Instagrammers and YouTubers to mention your brand? Or do you want to influence an audience to buy your product? Winfluence - The Influence Marketing Podcast explores the world of influencer marketing from a strategic perspective to help your influence efforts align with driving business value. Host Jason Falls, author of the companion book Winfluence: Reframing Influence Marketing to Ignite Your Brand, interviews brand managers, agency strategists, software vendors and influencers themselves to uncover the art and science of influencing audiences to try, buy or think differently. There's a difference between using influencers and actually influencing. Discover that difference and explore both online and offline influence on Winfluence.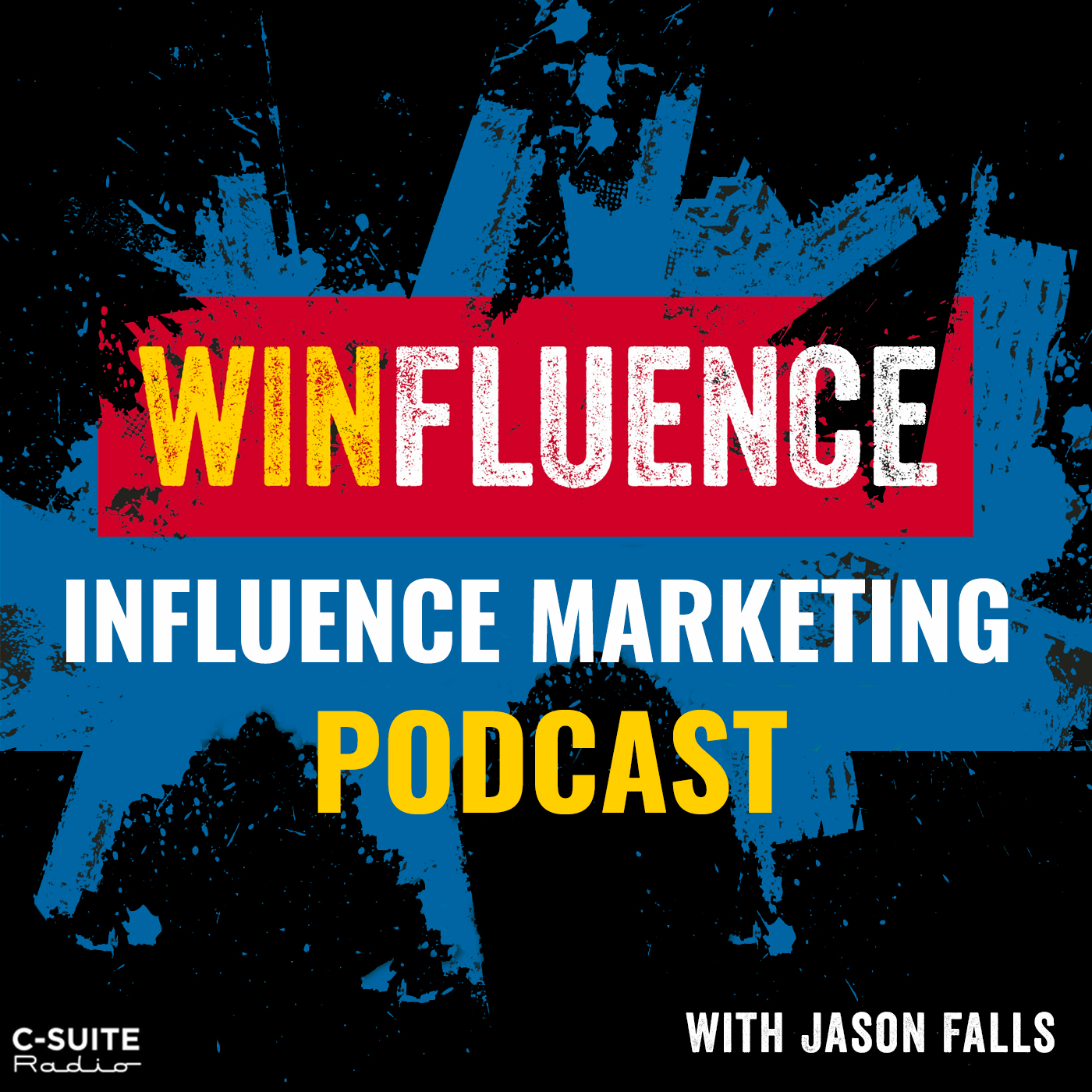 The landscape of influencer marketing tools is wide and varied....

Aaron Anastasi has one of those faces you think is...

Influencing people isn't just creativity and content mixed together. It's...

For years now, one business-to-business, or B2B, marketing tactic has...

If there is a beat writer for the influencer marketing...

A few weeks ago on the show, we talked to...

We've talked about a handful of books on influencer marketing...

Kroger was the first company to launch a branded TikTok...

If you're not doing video today online, you're not getting...

Few people have been intimately involved in the influencer marketing...

As of February of 2020, Twitch has 3.8 million unique...

Can influence marketing save broadway? Or how about arts organizations...

Carlos Gil's latest book is called The End of Marketing....

Amanda Russell's new book, The Influencer Code - How to...

Rani Mani at Adobe formerly led that enterprise company's influencer...

Fashion influencer Emily Ho has a unique perspective on influencer...

Scott Harward is an SEO, Pay-Per-Click and Affiliate Marketing guy....

Few people have as much experience in driving B2B influence...

This is a special bonus episode. Many of you know...

Pierre-Loic Assayag is the founder and CEO of Traackr, one...

Michael Brito is one of the more experienced business-to-business (B2B)...

Onalytica evolved from the public relations and communications side of...

Sam Fiorella co-authored one of the first books on influence...

The biggest challenge influencers often face is figuring out how...

Adrian Parker is the Global Vice-President of Marketing at Patron...

Kristy Sammis is the chair and executive director of the...

Ted Murphy founded IZEA, the first influencer marketing platform, in...

** Note - This is the final episode of Digging...

** Digging Deeper has changed feeds. Starting September 1, you'll...

** Note: The feed changes September 2 to no longer...

Crystal Duncan from Edelman joined Jason on #DiggingDeeper to chat...

**Update your feeds! Digging Deeper will only simulcast to this...

This Episode:  If you've ever wondered how to use virtual...

** Update your feed to subscribe to Digging Deeper at...

UPDATE YOUR FEEDS! This podcast feed will not carry Digging...

Brands are boycotting Facebook and other social media platforms to...

Can you measure creativity? You certainly can if you're speaking...

Neal Schaffer's fourth book is out now and is called...

The podcast has officially switched over to Digging Deeper -...

Robert Courtney Collins is one of the co-founders of the...

James Dawson has a monster challenge. He is the vice-president...

Imagine your CEO or company spokesperson appearing at your next...

Jim Joseph, the global president of BCW — Burson Cohn...

Mark Savant knows how to build an online brand. His...

If only you could identify anonymous website visitors and email...

Should agencies, consultants and other B2B service offerings worry about...

Does your brand or agency have a content performance culture?...

Gavin Jocius knows a thing or two about e-commerce. The...

Danielle Wiley is one of the pioneering agency leaders in...

Have you joined the Context Marketing Revolution? You should. Or...

Toni Deckers is trying to build a crowdsourced sit-com. Yep....

Selling direct on your website is challenging in an Amazon-led...

The creative process is one of life's great mysteries. If...

Stock photography sites are a dime a dozen, but Scop.io...

Dove Men+Care is one of the few brands in the...

There's a big difference in corporate marketing and brand marketing....

Leigh Roach and Tamara Schneider started a blog in 2017...

The best way to encourage people to buy from you...

Meltwater announced a new addition to its social listening platform...

The most creative public relations move you can make is...

Not only is B2B marketing not some cosmic Rubik's cube...

Jason Falls gives you food for thought on how to...

Matthew Rolnick knows a thing or two about the magic...

You can master your mornings for optimal time management and...

Kim Kasparian is a business coach and consultant who works...

Personal branding is imperative for today's professional, but how does...

Burger King tried to charge Jason $3.63 for a 32-ounce...

Word of Mouth Marketing has always been a bit fuzzy...

Bill Harper has a very succinct and necessary reminder of...

David Meerman Scott is the worldwide best-selling author of the...

Jason Falls's pal Chris ran into a business owner who...

As if GDPR wasn't enough, the California Consumer Privacy Act...

Eric Miltsch has a couple of decades experience leveraging digital...

The Federal Trade Commission (FTC) has finally issued a round...

What does it mean to be a pink goldfish? Authors...

In sales, the phrase is "Always Be Closing." In marketing...

Yes. You read the headline right. Jason Falls once gave...

TikTok is one of the fastest growing social networks and...

Few people know how to build communications strategies for business...

Dr. James Gabhart saw other medical professionals fun videos at...

John Jantsch's latest book is a diversion from his previous...

If you had to add or change something on your...

Alli Truttman started Wicked Sheets after being laid up in...

Are you able to correlate website analytics to your marketing...

One of Jason Falls's favorite podcasts is the well researched,...

The main problem with search -- SEO and SEM work...

Few people play in the heady space of CXO advising...

New research from Google and the 4A's shows the impact...

Influencer marketing, podcasts, bloggers, vloggers and new media producers are...

In response to an observation by Jeremiah Owyang, Jason Falls...

What should parents know about teens and social media? In...

Listening to one of his favorite podcasts, Jason Falls discovered...

Community engagement -- listening, commenting, providing customer support -- is...

It seems like we've reached a crossroads in influencer marketing....

What if you could target your online media to just...

Someone asked me last week, "How do I get more...

If your business is not paying attention to online reputation...

It's never a bad time to check your social media...

There's a difference between brand communications and content and corporate...

Preston Arsement shared his insights as a YouTube influencer with...

Infographics may seem like a past fad to some, but...

Marketing to Gen Z is an imperative for today's brands....

Every so often a familiar question pops up from clients,...

Jason Falls came across an idea to help distracted drivers...

Do small businesses need websites? Jason Falls offers up his...

Influencer marketing is the channel du jour in marketing right...

Justin Hall, one of the geniuses behind BitSource and the...

One of my favorite things to do is chat with...

Mitch Jackson is an expert in social media for business and...

If you want to launch your business on Amazon, Shannon...

Using LinkedIn for Personal Branding and Sales is just smart....

How do you live a Limitless life? How do you...

Our first interview show had to be about video marketing...

The first-ever episode of what became The Jason Falls Show...