About The Drill Down
The Drill Down is a daily podcast focused on business fundamentals of the biggest stock movers of the market day, hosted by veteran financial journalist Cory Johnson. Through insightful interviews with CEOs and investors, meaningful research and in-depth analysis, The Drill Down provides a clearer picture of what's really going on under the hood at publicly traded companies. This is business news for business people.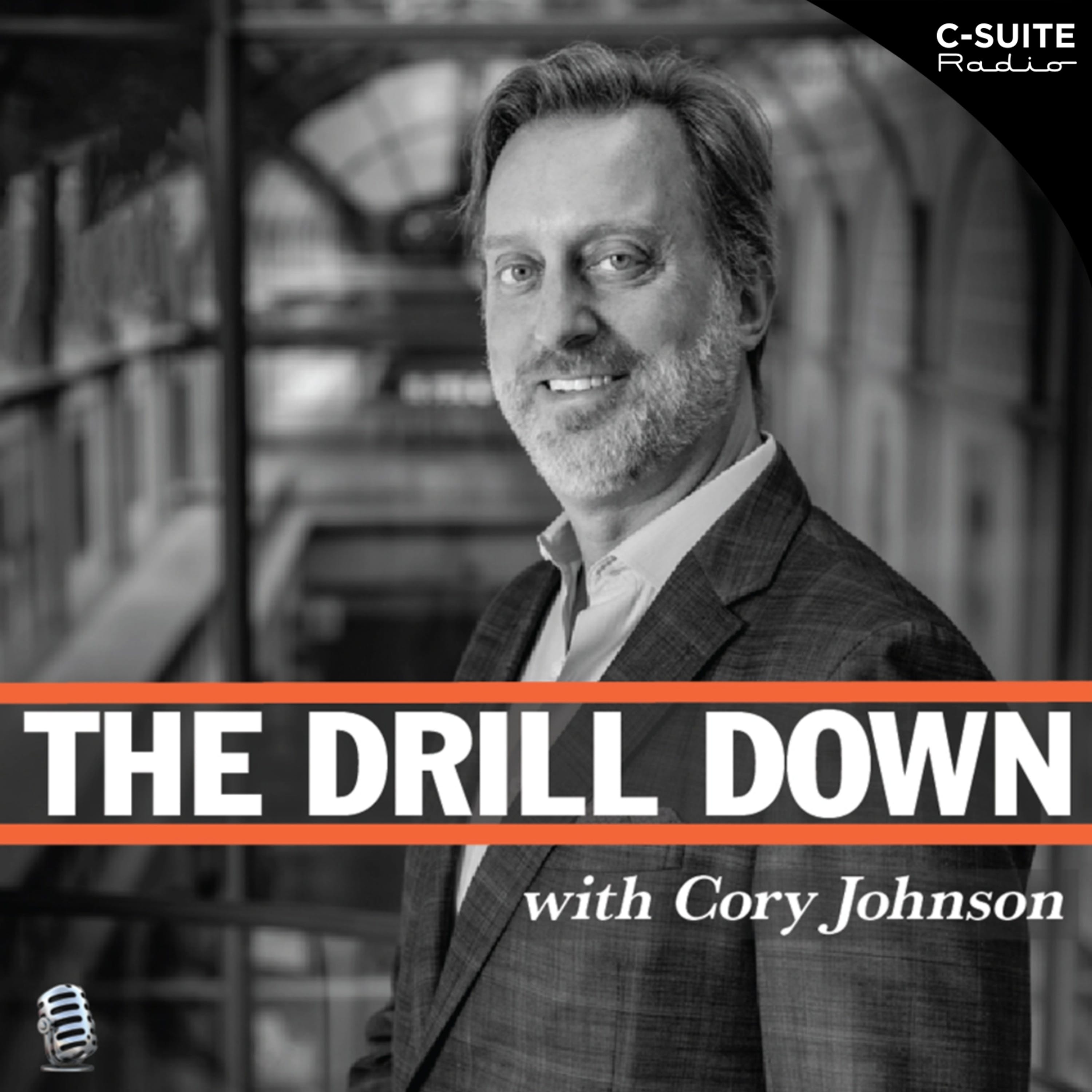 A blood test for cancer? Adaptive Biotech founders Chad and...

Crapware no more! Perion Networks embarks on an era of,...

What a tech company looks like when acquisitions are central...

Benjamin Button in a bottle? ChromaDex CEO Rob Fried (CDXC)...

IDT finds telecommunications gold dealing with customers other companies just...

The business of strip clubs with RCI Hospitality CEO Eric...

Can Lightwave Logic actually transmit data at higher speeds with...

Newtek Business Services (NEWT) buys a bank and transforms the...

Is the Biden administration really putting their money where their...

Better cheaper auto loans through Open Lending (LPRO)?  We drill...

How TransMedics (TMDX) is using technology to improve its thermos...

Oil and gas executives may say they care about the...

Even ATM-sales took a hit during COVID, but are they...

Can weapons detection company Evolv Technology (EVLV) make schools safer?...

How to build a global business one influencer at a...

How AMD became a semiconductor giant with Huntington National Bank's...

The mack daddy of cyber security,  Crowdstrike CEO George Kurtz...

Can artificial intelligence find you customers ready to spend? ZoomInfo...

Digitizing the home services industry with Porch CEO Matt Ehrlichman...

Electric car batteries die -- and Li-Cycle (LICY) Co-Founder Ajay...

Tripadvisor's (TRIP) evolution, post-pandemic plans and bet on flexibility and ...

From crypto to couches, Overstock.com CEO Jonathan Johnson (OSTK) on...

With $1 billion in charitable contributions from over 15,000 companies...

The real story of this market sell off China Evergrande,...

The difficulty of medical device sales during COVID-19 with Bioventus...

How Origin Materials (ORGN) makes plastic out of wood chips...

How to weaponize T cells to fight cancer with Legend...

How the largest silver miner in Mexico is trying to...

OppFi CEO Jared Kaplan (OPFI) says his subprime lender is...

Spark Networks' CEO Eric Eichmann (LOV): sex vs. love: which...

Voyager Digital CEO Steve Ehrlich (VYGVF) tells us what he...

Covetrus CEO Ben Wolin (CVET) on meeting demand in the...

Marathon Digital CEO Fred Thiel (MARA) explains why his bitcoin...

How Westinghouse Air Brake Technologies (WAB) is poised to profit...

AppLovin CEO Adam Foroughi (APP) tells us about his company's...

CareMax CEO Carlos de Solo (CMX) wants to give your...

Bark CEO Manish Joneja (BARK) on the business of dogs...

Olo CEO Noah Glass (OLO) tells us how he plans...

Matterport (MTTR) CEO RJ Pittman talks on digitizing and 3D...

Unisys (UIS) COO Eric Hutto discusses why his company is...

Enovix (ENVX) CEO Harrold Rust and chairman T.J. Rodgers on...

STEM (STEM) CEO John Carrington on the software/hardware offering that...

DigitalOcean (DOCN) CEO Yancey Spruill explains how their "developer cloud"...

Horizon Technology Finance (HRZN) CEO Robert Pomeroy gets real about...

Illumina (ILMN) CEO Francis deSouza on acquiring Grail despite an...

Eagle Point Credit Company (ECC) Founder Tom Majewski tells us...

SITE Centers (SITC) CEO David Lukes tells us why he...

Builders FirstSource (BLDR) CEO David Flitman with the inside story...

Porch Group (PRCH): the Amazon of home services? That's the...

Patterson Companies (PDCO) CEO Mark Walchirk walks us through the...

Lemonade (LMND) CFO Tim Bixby explains why Lemonade shrinking revenues...

Hennessy Focus Fund's Brian Macauley discusses Allegiant Air (ALGT) and...

Vista Outdoor (VSTO) CEO Chris Metz discusses magic bullets and...

Star Bulk Carriers (SBLK) president Hamish Norton discusses his company's...

SentinelOne's (S) recent IPO shows how very different cybersecurity companies...

AquaBounty Technologies (AQB) CEO Sylvia Wulf on the challenges and...

LendingClub (LC) CEO Scott Sanborn discusses the Radius Bank acquisition...

Barrick Gold (GOLD) is a miner like no other, says...

Plug Power (PLUG) fuel cell business surges ahead and is...

Iridium Communications (IRDM) CEO Matt Desch on pioneering satellite technology...

AVEO Pharmaceuticals (AVEO) CEO Michael Bailey explains why we're finally...

eXp World Holdings (EXPI) CEO Glenn Sanford tells us why...

SPAC Godfather Niccolo De Masi of dMY Technology shares his...

Hood River Capital Management's David Swank shares the ABC's on...

A Covid cure from Omeros (OMER)? We discuss with Jacob...

Cambium Networks (CMBM) CEO Atul Bhatnagar talks about the weird...

Fastly (FSLY) uses developers to sneak into the C-suite and...

Is Alibaba's (BABA) really as confusing as Enron? J Capital's...

Will Intel (INTC) buy GlobalFoundries to accelerate chip growth? How...

UnitedHealth Group (UNH) and the return to pre-pandemic healthcare. Why...

Norwegian Cruise Line (NCLH) and its CEO are ready to...

Loop Industries (LOOP) CEO Daniel Solomita discusses plastic waste and...

Virgin Galactic's (SPCE) founder Richard Branson did NOT go to...

Silicon Valley medtech innovator Outset Medical CEO Leslie Trigg (OM)....

Devon Energy (DVN) CEO Rick Muncrief tells us about the...

How will rising gas prices affect oil refiner Phillips 66...

Will a new amendment filing on their New Drug Application...

Tax cheating and Trump Inc. A look at the business...

The Losers! The business stories behind the worst performing stocks...

The business stories behind the best performing stocks of the...

Yext (YEXT) CEO Howard Lerman tells us how AI and...

Take-Two Interactive CEO Strauss Zelnick (TTWO) on how the company...

Nike (NKE) reaps the effects of its digital transformation with...

FireEye COO explains exactly how the big break up will...

Dan Springer, CEO of a surprisingly interesting Docusign (DOCU). Patterson...

Why Apple, Amazon, Netflix and Uber use Teletech (TTEC) for...

Star Bulk Carriers president Hamish Norton (SBLK) on global shipping...

Why digital workflow leader ServiceNow (NOW) may be ripe for...

OceanFirst Bank CEO Chris Maher (OCFC) tells The Drill Down...

Plug Power CEO Andy Marsh (PLUG) on his goal of...

How Align Technology (ALGN) uses patents, data, 3D printing and...

Zscaler founder and CEO Jay Chaudhry (ZS) on preparing for...

Wells Fargo (WFC) tries to shore up its business and...

How MasTec (MTZ) benefits from the move to 5G, James...

Behind CarMax's (KMX) unique focus on technology, its brick-and-mortar footprint...

Flotek chairman and CEO John Gibson (FTK) on how chemistry...

Sunnova Energy founder and CEO John Berger (NOVA) on financing...

VSE Corporation CEO John Cuomo tries to turn around an...

Uber's (UBER) big bet on delivery pays off in the...

Can Square (SQ) build a lasting business on Bitcoin? And...

The business of putting II-VI's (IIVI) lasers into Apple's iPhones,...

Skyline Champion (SKY) bets big on future demand for mobile...

The copper crown weighs heavy on the head of Freeport-McMoRan...

Is Crown Castle International (CCI) poised to be a 5G...

IAC spins off Vimeo (VMEO), but will the video company...

Can Discovery (DISCA), fueled with HBO and Warner Brothers content...

Shopify (SHOP), teamed with Google, is taking a bite out...

How Sunnova Energy International (NOVA) is finding success in solar,...

Is Lionsgate (LGF.A) the next Netflix? Or the next Disney+?...

Elon Musk impersonators steal $2 million from the bitcoin curious....

How Broadcom (AVGO) plans to keep up with chip demand...

With fewer people dying, could it be time for Lincoln...

Is Virgin Galactic (SPCE) a zero-gravity zero? James Rasteh of...

Understanding the massive changes underway at Intel (INTC) with former...

Is China the key to Gazprom (EDR) maintaining global gas...

Can Spotify (SPOT) keep growing? Clockwise Capital's James Cakmak says...

AirBNB return to growth, explaining Bill.com's multi-billion purchase of Divvy...

Separating good SPACs from bad with dMY Technology Niccolo de...

Why JMP Securities CEO Mark Lehmann believes used car seller...

Goodyear Tires' (GT) plan to hike prices and use soybean...

The Drill Down with Cory Johnson focuses on the business...

Cory Johnson introduces us to the new Drill Down Podcast.