Mind Body Connection Special With Guest Host Phoenyx Long The Stroke Foundation

About Aaron

Hello,

My name is Aaron Avila

I am CEO and Founder of Stroke TV Media. I created this movement out of my own personal battle with surviving a Sub Anconoid Brain Aneurysm then two weeks later, while in a comma, I suffered a stroke.




When I had my stroke, I felt so isolated and scared. Half paralyzed, unable to speak well and unable to walk, I began to feel as if my life was over.




Than I turned on the TV and I began to listen to a man speak on how my attitude effects the success of my life. This man said I must be relentless and never give up. I need to saddle up and ride. I need to Think Big Act Bigger!




This man was Global Business Celebrity Jeffrey Hayzlett.




Chairman & CEO of the C-Suite Network, Host at C-Suite Radio & C-Suite TV, Hall of Fame Speaker, Best-Selling Author.

(What's more incredible, Jeff Hayzlett is now my friend).

Learn more about your ad choices. Visit megaphone.fm/adchoices
With Special Guests Christine Buckley & Tracy Iona Brain Aneurysm...

About Michelle,My name is Michelle, I am a 12-year post...

About TomI am a US Naval Academy graduate, submariner, shipbuilder,...

35 years of Sales, Marketing, Training and face-to-face presentations across...

Edward Cassenti BioEdward Cassenti is a husband, grandfather and father....

THRIVE RECOVERY created by Vaughn Johnston is endorsed by Stroke...

About LisaHaving worked as an occupational therapist for over 30...

About AaronHello,My name is Aaron AvilaI am CEO and Founder...

With Guest Lewis BartelleAbout LewisI had a very cool 11...

About Abraham RumeryMy name is Abraham Rumery a 27 year...

About RichRich "Trigger" Bontrager is the creator and host of...

About CoreyCorey Poirier is a multiple-time TEDx, and sought-after Keynote, Speaker....

AboutMaggie Whittum is a filmmaker, actor, producer, writer, public speaker,...

About Jeff Roberts,I am a Survivor. Born and raised in...

In this episode of Stroke Of Genius Podcast, I interview...

Video Provided To Stroke TV by Motiversity.com (Video version https://www.youtube.com/watch?v=cgg-jL7wQeI&t=1s)DON'T...

About Stroke Awareness OregonStroke Awareness Oregon, a non-profit created by...

Tricia Benn is the Chief Community Officer at the C-Suite...

Helping prevent/become independent from a stroke, so you can Live...

My Aunt Julie was a foundational support during my stroke....

Video provided to Stroke TV by Motiversity.comNever Give Up! So...

Video provided by Motiversity.comRISE! Every day is a new day...

About Scott WhiteI had just turned 50 the day before...

About DonnaDonna O'Donnell Figurski, wife, mother, and granny, is a...

The International Metaphysical Academy provides a safe, down-to-earth, and supportive...

Guest Christopher Laureano  - Recovery Education and Learning (REAL) Program Director...

In this episode I interview CEO Carolyn RussAbout my guest.Helping...

Visionary and Developer of Software Platform aimed at Enhancing Optimal...

I am honored that Global Business Celebrity Jeffrey Hayzlett will...

Full length Podcast broadcasts January 28thAbout CEO Anneli DriessenGrowing up...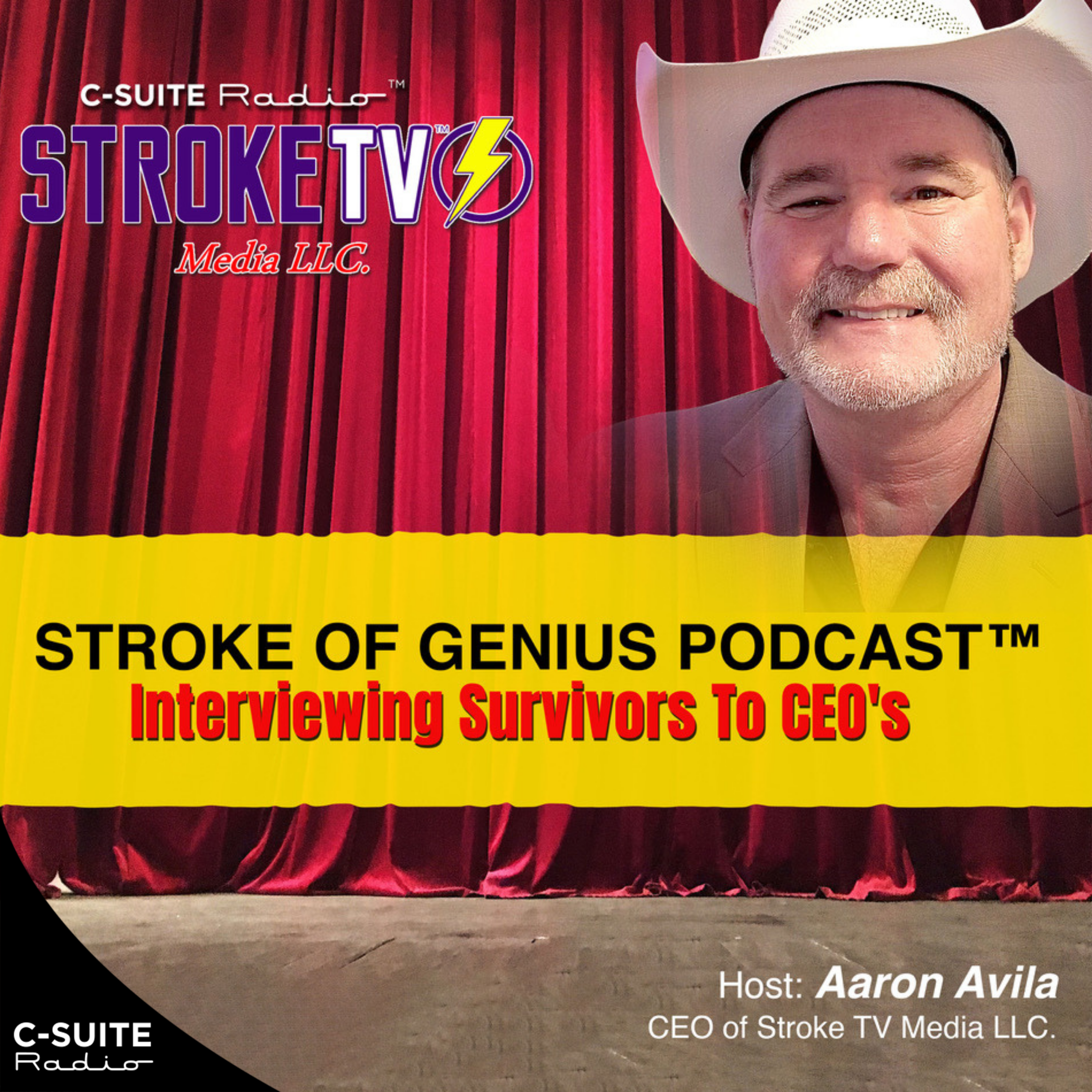 Stroke Of Genius Podcast
A podcast series dedicated to providing actionable insights from stroke survivors, CEOs, and amazing people overcoming adversity in life and business.
More Shows
swipe to see more