Colleen O'Grady, MA. is a speaker, trainer and author of the award-winning and best-selling book Dial Down the Drama: Reduce Conflict and Reconnect with Your Teenage Daughter---A Guide for Mothers Everywhere. Colleen shares her wisdom from twenty-five years of experience as a licensed marriage and family therapist which translates into over 50,000 hours of working with parents and teens. Colleen, known as the parent-teen relationship expert helps you raise the bar of what's possible for the teenage years. Colleen not only knows this professionally she has been a mom in the trenches with her own teenage daughter. You really can improve your relationship with your teen and dial up the joy, peace, and delight at home and work, Every episode is geared to uplift you, give you practical parenting tips that you can apply right away and keep you current on the latest in teen research and trends.
#026 How to Beat Anxiety
Do you feel like you worry about your teen 24/7? Does your son and daughter seem to always be stressed?
Ready to dial down the worry and the stress!
In this episode I interview Jodi Aman, who has been a psychotherapist for over 20 years. Jodi is also the author of You 1 Anxiety 0 Win your freedom back from fear and panic.
Besides being a seasoned therapist, Jodi is also a mom of teens and can relate as a parent. Jodi answered these two questions.
What tips do you have for  moms struggling with their own anxiety?
What can moms do when they see their sons or daughters really anxious or stressed out?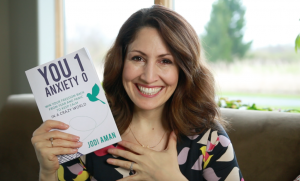 Jodi believes you can win your life back from fear and panic. Her advice is practical and based on science. The good news is that  though we live in a fear based culture, worry doesn't have to define your life or your family.
Bio: Jodi Aman wrote the bestseller, You 1, Anxiety 0 to help people WIN their life back from fear and panic. With sharp empathy into the complexities of people's pain–since she has recovered from her own family chaos and panic attacks–and a keen understanding of how and why people get stuck there, Jodi has decided to dedicate her life to helping people feel less lonely and afraid.
Find her at http://jodiaman.com. Check out her videos at http://youtube.com/jodiaman. Get inspired on Instagram @JodiAmanLove. Or feel loved on Facebook: http://facebook.com/jodiamanlove.
More Shows
swipe to see more