Colleen O'Grady, MA. is a speaker, trainer and author of the award-winning and best-selling book Dial Down the Drama: Reduce Conflict and Reconnect with Your Teenage Daughter---A Guide for Mothers Everywhere. Colleen shares her wisdom from twenty-five years of experience as a licensed marriage and family therapist which translates into over 50,000 hours of working with parents and teens. Colleen, known as the parent-teen relationship expert helps you raise the bar of what's possible for the teenage years. Colleen not only knows this professionally she has been a mom in the trenches with her own teenage daughter. You really can improve your relationship with your teen and dial up the joy, peace, and delight at home and work, Every episode is geared to uplift you, give you practical parenting tips that you can apply right away and keep you current on the latest in teen research and trends.
#025 Embodied Mom: Support your teen in being "body positive"
Has your daughter ever eaten a big bag of Cheetos and then fifteen minutes later run out of the room and screamed, "I'm so fat."
Monitoring teenage girls and their food choices can be tough for moms. You can tell your daughter is struggling with her body image and you try to calm her down and she gets angry. You try to hold your daughter accountable by asking her if she really wants that second Crave cupcake and well…she doesn't say thank you mom.
Moms know that a healthy diet is important and when we try to help our daughters it can quickly go to drama.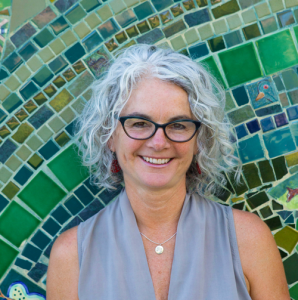 In this episode I interview Connie Sobczak, the author of Embody: Learning to Love Your Unique Body (and quiet that critical voice!). She is an educator, speaker, filmmaker, and co-founder of The Body Positive, a non-profit organization where, for the past 20 years, she has skillfully and lovingly reconnected teens and adults to their body wisdom to make more balanced, joyful self-care choices. Her Be Body Positive Model offers a guide for people to create a relationship with their whole selves that is guided by love, forgiveness, and humor. Connie's experience with an eating disorder in her teen years and the death of her sister Stephanie inspired her life's work to create a world where all people are free to love their bodies. She raised her daughter, Carmen, in The Body Positive community, where children and teens learn to value their authentic beauty and identity, and use their energy and intellect to make positive changes in their own lives and in their communities.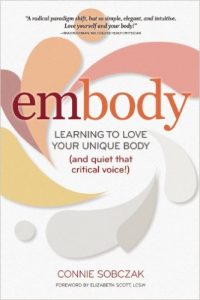 In this episode Connie tells us why she started The Body Positive and why she wrote her book Embody. (which I highly recommend)
Connie encourages moms to not make negative comments about  their daughters food choices and eating habits. She states that it won't help and will only create shame and resistance.
Connie has a fresh approach that is practical, helpful, and doable for moms. In this episode she shares her proven techniques of The Body Positive that she has used for 20 years in schools and communities.
Connie believes in creating supportive communities so that it's not all on mom. She also shares what moms can do to help their daughters love their unique bodies.
You can contact Connie at info@thebodypositive.org
Her website is www.thebodypositive.org.
On her home page is a FREE gift for you: 3 ESSENTIAL SKILLS FOR LOVING THE SKIN YOU'RE IN!
More Shows
swipe to see more