Amazon to Let Delivery Drivers Open Your Front Door
Amazon to Let Delivery Drivers Open Your Front Door
https://c-suitenetwork.com/wp-content/uploads/2017/10/amazon-to-let-delivery-drivers-open-your-front-door.jpg
620
400
C-Suite Network
https://c-suitenetwork.com/wp-content/uploads/2017/10/amazon-to-let-delivery-drivers-open-your-front-door.jpg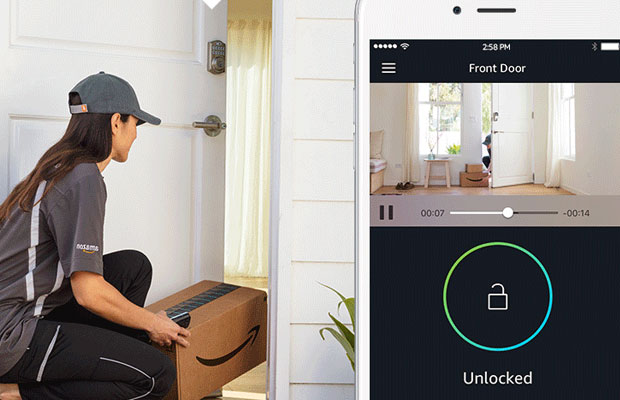 Future Digital Finance West | Dec 4-5 | Phoenix, AZ
Hear 30+ digital finance leaders who are transforming the industry address omni and mobile banking strategies, customer-centric digital innovation and emerging fintech that solves real customer problems. 25% discount available to finance execs. A WBR Event. View agenda and learn more.
Amazon on Wednesday announced a new service that will allow Prime members to receive in-home delivery of packages with the help of high-tech smart locks that allow drivers to open their front doors.
Amazon Key will launch officially on Nov. 8 in 37 U.S. cities and surrounding communities, with additional locations to be added over time. The service will be available at no extra cost to Prime members, and it will work with standard, two-day, overnight and same-day deliveries.
"Amazon Key gives customers peace of mind knowing their orders have been safely delivered to their homes and are waiting for them when they walk through their doors," said Peter Larsen, vice president of delivery technology at Amazon.
To use the service, Prime members must order an Amazon Key in-home kit, which includes the Amazon Cloud Cam and one of several compatible smart locks offered by Kwickset or Yale. The Amazon Key In-Home Kit starts at US$249.99. The locks can be installed professionally at no extra cost or self-installed by customers, according to Amazon.
Beyond Deliveries
When a driver requests access to the customer's home, the Cloud Cam confirms the driver is at the right address through an encrypted authentication process. After the request is authenticated, the Cloud Cam starts recording the delivery and the door is unlocked.
Customers can track the delivery using the Amazon Key app on their mobile phones. They get real-time notifications and can watch deliveries live or view recordings later. The entire delivery process is backed up by the Amazon Happiness Guarantee, the company said.
The agreement is a big step for Yale. Its parent firm, Assa Abloy, also on Wednesday announced that it is testing an in-home delivery service with 100 customers in Sweden, in collaboration with delivery firm PostNord and e-commerce retailers Jollyroom, Apotea and Komplett. Yale Doorman digital locks are being used in the tests.
"It's significant in that we're working with Amazon, obviously a powerhouse in online retailing, and working with them on one of the most innovative programs in e-commerce and home delivery," the firm said in a statement provided to the E-Commerce Times by spokesperson Terry Shea.
The Amazon Key program will provide features beyond home delivery of packages, the company said. Customers will be able to grant keyless entry for family and friends, and they'll be able to set frequency and length of time for access to the home.
Amazon plans to roll out a new program that will allow thousands of companies to access homes using the…