How Bagels and 'Schmear' Became Big Business
How Bagels and 'Schmear' Became Big Business
https://c-suitenetwork.com/advisors/wp-content/themes/csadvisore/images/empty/thumbnail.jpg
150
150
jeffreyhayzlett
https://secure.gravatar.com/avatar/9bfe941a92a53f7aefdee0caff362394?s=96&d=mm&r=g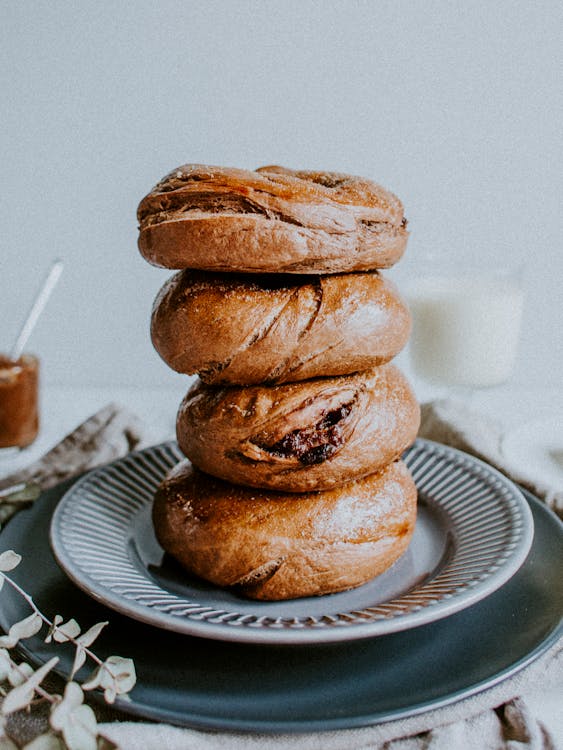 There's nothing more New York than a bagel and schmear (cream cheese for you non-New Yorkers). Many would argue, a bagel is a food that is good as-is. Don't mess with it. Others would disagree, including Elyse Oleksak. 
Recently I had Elyse as my guest, she's the co-founder of Bantam Bagels on All Business with Jeffrey Hayzlett. Elyse and her husband, Nick, took a New York style bagel, turned it into a donut-hole type ball, stuffed it with cream cheese, and put it in freezer cases across America.  
While Elyse and Nick sold the company in 2018, they still run Bantam Bagels. During our conversation, Elyse and I talked about Bantam's beginnings and its continued rise. 
"Who doesn't love a bagel?" Elyse asked. "It's iconic. It's something that everybody loves and fits literally within everybody's life. What we were doing was just creating a little bit of a twist on it and making it a solution to a problem. (A bagel) is too big. It's too messy on the go. It's too big of a commitment." 
They even took their idea to "Shark Tank" and got an investment from Lori Greiner.  
"(Lori) was the best fit for us," Elyse said. "She's known for having solutions for what seems like everyday problems, and that's what we were doing." 
First, we addressed the Bantam's origin story – which is remarkable in itself.  
During the 2008 recession, the Oleksaks worked in the financial industry, not the food business, when they decided to get into the bagel biz. 
"Nick and I were working on Wall Street when the stock market, the economy, blew up. Half of our friends lost their jobs overnight," Elyse recalls. "We were young and unafraid. We had ideas. We had hustle. We knew we had more to give. We had watched the professional infrastructure in front of our eyes dissolve, and we said if there's ever a chance to take a risk. Just to get on the end-line and sprint and try something out, it's now. Let's try and own our own destiny. We have this crazy idea that is so good it makes people jump up and down."  
"Just because we weren't cooks, it didn't mean we weren't eaters," Elyse said. "We were foodies. We lived in Brooklyn for 12 years. Bagels just become a part of who you are in New York." 
Using their Brooklyn apartment as a test kitchen, Elyse and Nick began baking batches of mini-bagels perfecting the recipe that would later become Bantam Bagels. 
"In the morning before work, in the afternoon up until midnight after work (we made) hundreds and hundreds and hundreds of batches," Elyse said. "Seeds everywhere. Flour everywhere. Different strands of yeast. We would take the dough and put it in our laundry room in our studio apartment, close the door because it was dark and moist enough to let the dough rise. We tried all kinds of stuff out." 
She added, "We used to walk around the park and be like 'You know, it would be really good to get some cheddar and Dijon inside of a bagel.' It was one of those creative things." 
All that creativity paid off. Nick and Elyse finally had their 'a-ha' moment.  
"We absolutely nailed it," Elyse said. "I remember Nick sort of boil-baked one filled bagel for me before he left for his Wall Street job one morning. He's like, 'It's on the counter. Try it.' One bite, and I did the whole jump up and down. We were off to the races." 
Elyse and Nick shared their new product with anyone in their network and pitched as many people as they could. From there, they started working on their flagship Bantam Bagel shop on Bleecker Street in Greenwich Village. Before opening, Bantam got a full-page write up in The Wall Street Journal. That exposure lead to two segments on NBC's Today Show in two weeks!  
"The New York scene exploded nationally. They were talking about us, and we hadn't even opened our doors yet," Elyse remembered. "We're like 'now it's just up to us. Now we have to deliver the product.'" 
Early on, Bantam found the media to be major allies.  
"We got a lot of really, really good buzz from the press that we capitalized on," Elyse said. "The press is the most amazing vehicle because they're genuine, and people listen because they're not getting paid to write about you. They're writing about you because they like it." 
To start, Elyse was working 18-hour shifts to keep up with demand. Nick would work his day job on Wall Street, then spend his evenings at the store. Elyse says what they learned early on was the unpredictability of foot traffic, even in a place as busy as New York. Bantam used its positive press coverage, including being named one of Oprah's Favorite Things in 2014, to start cold e-mailing potential places to sell their product. 
"We sent (an e-mail) to someone at Starbucks, who said 'I freakin' love your bagels. I bring people to your shop. Come on in!'" Elyse said. "We showed up to their office, and it was like we were on "Candid Camera." Everyone was coming in saying, 'Can I take selfies with you guys? I've read about you. I've seen your story. I love your shop.' That turned into momentum where (Starbucks) allowed us to launch at three stores. Those three stores very quickly turned into 30, turned into 50. We were personally delivering every bagel. We were personally going on the ground and sampling them to customers, like spreading the love from the ground up." 
Elyse and Nick used that personal approach at grocery stores, trade shows, and anywhere else, they could make a connection. All those connections and media coverage lead to an unlikely relationship with the home shopping network QVC. In fact, Bantam Bagels were on QVC before "Shark Tank." 
One day a QVC buyer cold called because she saw a story about Bantam in a magazine. The buyer was upfront about the difficulties of providing product to the cable shopping giant. QVC wanted 30,000 bagels ready in two weeks. Elyse and Nick looked around at their small store and staff and got to work. They shut down the shop and began baking in 24-hour shifts, all while Elyse was six months pregnant. They even had to research details like Nutrition Facts for the box during that time.  
It all paid off. QVC booked Elyse and Nick for a seven-minute segment. Bantam Bagels sold out in five minutes. Then QVC ordered more.  
"We were like, 'we're going to need a bigger boat,' Elyse said.  
That's when they reached out to the New York bagel community. From there, they got a crash course on the bagel industry and found a copacker, a company that would help make the product at scale.  
Next up for Elyse and Nick was "Shark Tank." Before they went before the sharks, the Oleksaks crammed for the exam.  
"Nick and I went to Columbia, and I studied harder for the "Shark Tank" pitch than I did for my SAT," Elyse said. "We had study guides. We had numbers. We would walk around and quiz each other. We watched every single episode ever aired, wrote down any questions that they asked, good, bad, you know, poking hole questions and we would prep our answers. I've never been so prepared for anything in my life." 
From the Today Show, Shark Tank, Starbucks, and QVC, Bantam Bagels found bigger distribution deals with retailers like Target, Safeway, and other grocers.   
"If you look at the grocery store right now, it's Eggo, Jimmy Dean, Toaster Strudel, Bantam," Elyse said. "We're like these little guys, and they've been established. We need to stand out." 
How does Bantam stand out?  
"People want more. They want to connect. They want to hear a story. They want to be inspired," Elyse said. "If we can connect personally with people and give that reason that they trust us a little bit more. They know whatever they buy is going to be the best thing ever because they know Nick and I have been up 'till midnight for months on end developing the recipe. That makes a difference." 
I love talking to Entrepreneurial CEOs like Elyse. Her story is an inspiration and proves that hustle and grit can pay off.  
If you'd like to hear my complete interview, including the story about how Bantam got into major retailers, click here.